Communicate your personal brand … in writing!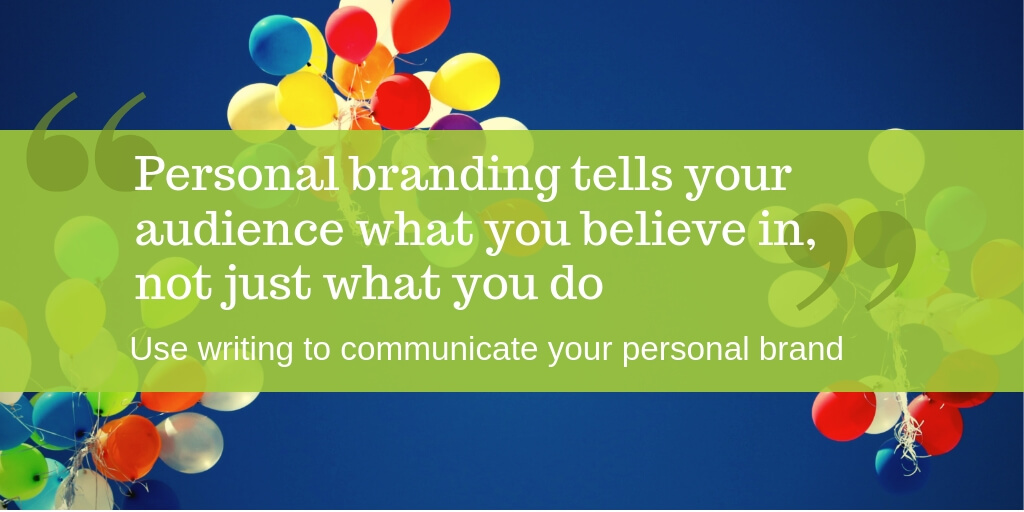 by Phyllis Smith, ITKVector Inc.
I learned the hard way, before I started an information business, that if you don't control your own personal brand, you leave the door is open for others to do it for you. Personal branding is more than a great logo and a sharp elevator pitch detailing your services. You need tell your audiences who you are and how they can expect to feel when they work with you.  
Personal branding done right shares your values and tells your audiences what you believe in, not just what you do.
Every time you have a conversation with someone, you have a chance to build your personal brand. Think of writing articles and blog posts as just another form of conversation. You can talk to many people at once, across time and geography. It's an efficient use of your time and a chance to make a lasting impression on your audiences. 
Identifying your personal brand
If you want to know more about personal brands and how to identify yours, I recommend that you check out Pia Silva of Worstofall Design.
Pia focuses on small service enterprises, just like most information businesses. She offers an ebook and some excellent blog posts on Forbes and on her own website. Pia emphasizes that your branding is essential to connect, not with just any client, but the right client, the one who loves you and who will happily pay your invoice because you are worth every penny.
Another resource is Sally Hogshead who is well worth exploring. She has a free quiz to help you home in on your personal brand and her book goes into greater detail. 
How to build your personal brand
Here are some thoughts to put you on the right track to communicating your personal brand through written publications:
Focus on your audience: Envision your fans who value what you do and love working with you. Who are they? What are their goals and objectives, challenges, strengths, and weaknesses? You are conversing with that audience when you write, not the entire world. 
Use your voice: Skip the scholarly language or professional diction if it's just not you. Let your personality out for some exercise. Give your audience the opportunity to know who you really are and then they won't be surprised when they start to work with you.  
Share your opinions: Your enthusiasm and your passion should shine through. That's irresistible to the right readers who could turn into the best clients. Some might disagree with what you have to say. It's better to discover than now before you waste time trying to convert them to being your clients.  
Be patient: You can't measure the success of a blog post by the number of new clients you sign up. Aim for micro-wins. Did someone leave an encouraging comment? Are you seeing shares on your blog post? Did someone ask you to guest blog? Were you or your article mentioned in a tweet? These are the small signs that you're having an impact. The big wins can come later. 
Tell stories: Imagine having a conversation about some aspect of your business or services. Tell the story of a familiar situation that builds to a conflict that your audiences will relate to. You can be the hero who resolves the conflict so that everyone lives happily ever after. 
Ready to get started?
If you are getting the urge to share your personal brand with your audiences, you can get started right now, right here. The AIIP Connections Blog offers a great opportunity to share your stories and communicate your personal brand. AIIP promotes its blog across various social media channels and you can too—link to your blog posts on any of your own social media channels so that your followers can get more in tune with you, your business, and your personal brand.
---
At the AIIP 2019 Annual Conference, Phyllis Smith, ITK Vector Inc delivered a talk on Communicate Your Personal Brand.   
Phyllis Smith has been working in the information profession, providing research as well as writing and editing and communication planning services, for more than 30 years. She has been a member of AIIP for over 20 years. Since 2015, she has worked with AIIP members to get their articles published in AIIP Connections. 
ITK Vector Inc. specializes in helping organizations and companies find reliable information and use it effectively to communicate with their stakeholders and audiences. Our services include research, fact finding, and writing and editing of high quality marketing materials and other content.