When updates turn into scope creep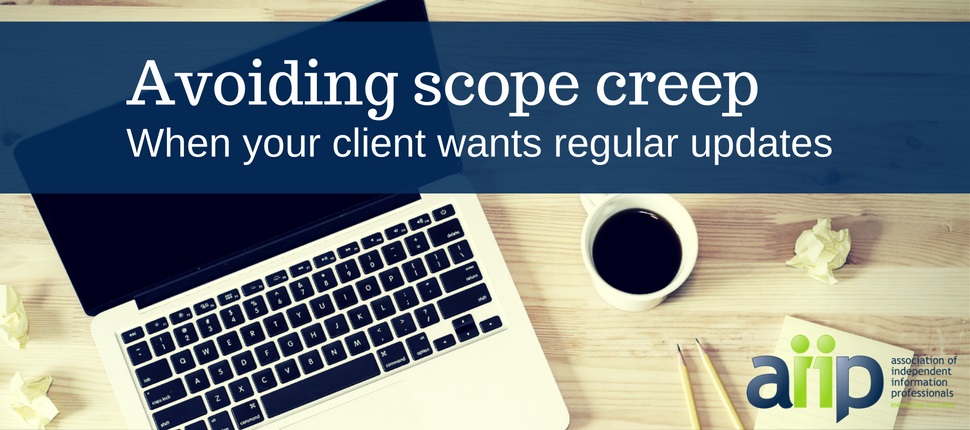 Amelia Kassel, President, MarketingBase, shares some tips on how to avoid scope creep
Several years ago, I went through an especially challenging exchange with a client. There were more than 50 emails back and forth over four months. Afterwards I thought, "Wow, next time I'm going to add another $1,500 to the project to cover unanticipated time."
The next time with that long-term client came along recently. He sent me a folksy email asking for research and a quote for what looked like a fairly basic market category, but which turned out to have multiple segments. I replied with price, timeframe, and terms. He authorized the project, agreeing to payment of 50 percent in advance and 50 percent upon delivery. I began working in good faith.
The day the client paid the advance, he emailed additional questions that had not been part of the initial request and were not included in my budget proposal. In addition, he asked for daily updates for a project that was to take no more than three weeks. I immediately decided that daily updates were out of the question, but responded with a status report, thinking it would suffice for the moment.
The next thing I knew, my client's client was in complete tizzy over one comment in the update. It took quite an effort to salvage the project.  My bad:  Because of my long-term relationship with this client, I had not included my usual scope creep paragraph. Nor did I address the issue of updates or include a kill fee clause.
My philosophy about updates
Updates take extra time to provide and often lead to scope creep. In an otherwise tight and cost-effective budget, there is no room for the additional work of creating and communicating updates. It is necessary to take control and renegotiate the budget.
Bottom line: Be proactive. Ask clients whether they would like updates, and come to an agreement about frequency before you quote the project. Let them know that updates require extra time and costs. Decide whether updates are a brief status report about your progress in general or details with substantive content. In the latter case, the client could be unduly alarmed. Estimate the time it will take to provide updates and include that time in the budget.
This post is an abbreviated version of an article originally published in the September 2015 issue of AIIP Connections.
---
MarketingBase (www.marketingbase.com) specializes in industry, company and competitive and market intelligence research. Amelia Kassel operates The Mentor Program for new research professionals and those wishing to expand.