Get to know us at AIIP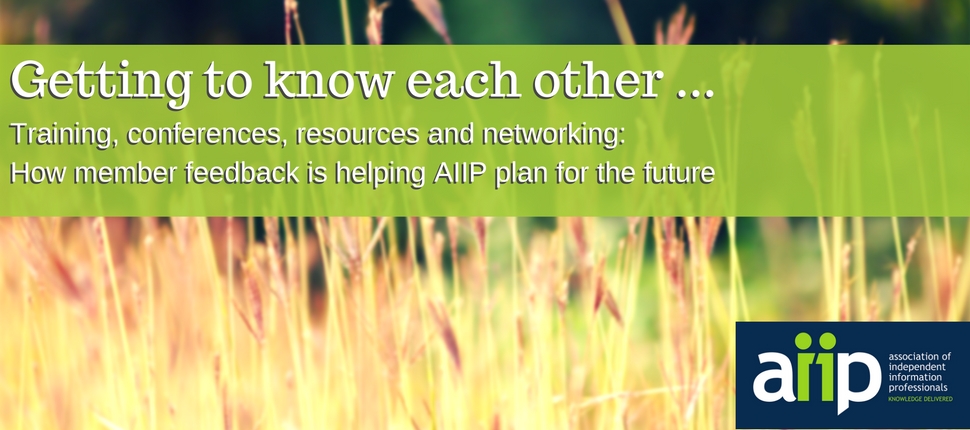 AIIP President, Jane Langeman, talks about how member feedback is helping AIIP to develop new services to help our members to build their businesses.
---
Regardless of where you are and what you are doing professionally, we want to share some exciting developments and new services at AIIP. Here's an update that might just make you want to join us. We'd love to get to know you!
What members are saying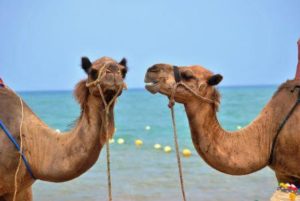 Our goal at AIIP is to be an indispensable and valuable resource to our members. To achieve that goal we need to understand what matters to members as they grow their independent information businesses.
We hear from members on AIIP-L (our private email discussion list), our open board meetings or town halls, through committee chairs, direct communication and via our biannual member survey.
Our most recent survey was conducted in 2015 with a report delivered to members in early 2016.  As association leaders, we owe members feedback as to what we learned from them and how it is affecting our actions to serve them.
Programming for new members
New members want help getting their first clients.
We've created a new area of our website for members-only resources specifically designed to support members in their first year of business. Topics include getting your first clients, pricing strategies, choosing whether to require prepayment, and designing your marketing collateral. In addition to links to tools and resources, we have a discussion forum dedicated to the concerns of first-year members.
AIIP members Cindy Shamel and Ulla de Stricker gave a short presentation based on their 2016 pre-conference workshop "Landing a Project … Then Nailing it: How to Win Assignments and Deliver Quality Results Every Time" to members in their first year of business at a virtual meeting offered in June.
Webinars from our First Year Questions Panels are a perennial favorite for new members and for longer term members who want to learn more about and from their peers. In 2016 alone, we heard from Amelia Kassel & Tom Wolff, Cindy Shamel & Marge King, Scott Attenborough, and Ruth Thaler-Carter & Ed Vawter.
Programming for all members
Members value programming that focuses on marketing and management skills. Our key programming channels are webinars and our annual conference.
Presenters of our webinars include both members and external speakers. Members can attend the monthly webinars for free.  If you aren't a member, our webinars-for-sale are a good value! Marketing related programming in 2016 includes:
Storytelling Marketing (Oct 13, 2016)
Get that Speaking Gig
Are you LinkedIn or LinkedOut?
Make A Conference Count: Maximizing Your Conference or Trade Show Experience
Our 2017 conference programming team is focusing sessions on various aspects of growing a business. This appeals to aspiring business owners as well as established ones including those at allied organizations. More specialized content that may be of interest to subsets of members will be included in our tips and pre-conference workshop sessions. And even associate members can gain valuable tips from conference sessions.
Networking
Members want local networking opportunities, a means to identify others who work in similar fields across the world, and leads to partnering opportunities.
We have now established 11 local networking groups. Don't see a group near you or in your geographical area? Our local groups co-chairs can help you set something up in your area.
One of the simplest ways for you to promote yourself is to complete your profile in the AIIP Member Directory. Conversely, the member directory is a fast and effective way to find others in similar fields. The public version of our member directory is called the AIIP Business Directory. This is our most popular public web page!
Members who partner with each other for business do so primarily after building personal relationships with other members. Posting on AIIP-L is the easiest and most popular way to get to know, and be known by, other members. It's a fantastic repository of expert advice. Volunteering is another effective way to give and get at the same time. You get to know other members on your team and some committee roles involve a service component in which you have the opportunity to meet other members. We've done our best to create volunteer opportunities so that service works for you and is not onerous. Not sure where to volunteer?  Let's talk about what interests you. It's as easy as that.
Conference
Members like conferences in Interesting locations, less expensive ways to benefit from the conference and remote conference opportunities.
We understand that not everyone can attend our annual conference, the source of much networking and programming.  To increase access to all of the wonderful sessions at the conference, we have created a Conference 2016 Highlights webpage that has links to the AIIP Conference edition and conference programming including session handouts.
Our 2017 annual conference in May will be in New Orleans, LA, which is a popular U.S. city with a unique culture and history. We'll be staying at the Hampton Inn which includes free breakfast with all of the hard-boiled eggs you want. And, wifi is free throughout the hotel including our conference rooms.
We're conducting a search for 2018 locations that are interesting, convenient to reach and are reasonable in cost.
Member resources
The member survey also shows us gaps where we can promote AIIP as an indispensable resource.
Member satisfaction with and usage of vendor services increases over time. To help members really grasp the value of our Industry Partners and Affiliates, the Industry Relations Committee is creating Vendor Highlight Snapshots. The first Highlight Snapshot will be launched soon and will be covering a long-time Affiliate, Alacra.
Awareness of AIIP
Members feel that an increased awareness of AIIP helps them find new clients.
Our objective is to increase awareness of AIIP as an association and our members as expert independent information specialists. New efforts in this vein include the President's articles in AIIP Connections (read the June or September 2016 issues) that frame AIIP as a part of an IP ecosystem and our AIIP blog with member news and articles. We expect to leverage this content using social media.
Another strategy in expanding our own network of IPs is to grow relationships with other IP groups. We have formal agreements with the Society of Technical Communication (STC), Association of Professional Researchers for Advancement (APRA), Internet Librarian International London (ILI) and Patent Information Users Group (PIUG). The objectives of these relationships are to expand programming opportunities for members of each organization, cross-market conferences, attract new members and increase awareness of IPs in new communities.
This is a growth area for us.  We are working to strengthen our existing alliances and grow new ones.  I'll focus on this topic in another President's email blast.
Transparency
Members want the AIIP Board to share more information about existing efforts.
We're sharing information with members each month to be transparent. Our communications are to help members stay apprised of all the rich resources and programming available just for them! How are we doing?
Be a part of the AIIP community of information professionals by joining  AIIP as a student, associate or full member. Check us out!
Jane Langeman
---
Jane Langeman is the 2016 – 2017 President of the Association of Independent Information Professionals, and Project & Technology Management Professional at Langeman Consulting.