Using a kill fee clause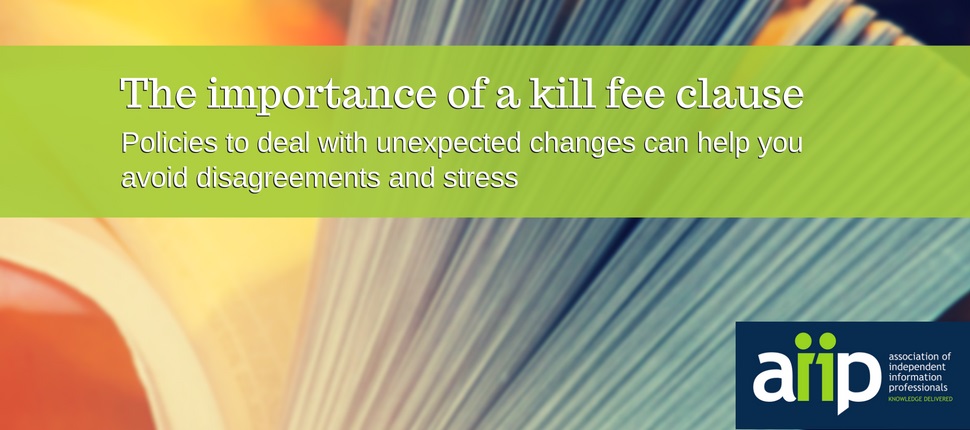 Amelia Kassel, President, MarketingBase, shares some tips on when to use a kill fee clause
Historically, I have not used a kill fee clause. More recently I have on occasion.
Without a kill fee clause, there is no protection if a client wants to stop the project before you have completed the research. This was the case with a recent project – until I explained why using limited and inconclusive information for an important business decision was a very bad idea.
A kill fee clause should spell out your policies.
All project specifications should be discussed and agreed upon by both parties before you write a proposal or prepare a letter of agreement or contract. Such documents should include protective clauses covering scope creep, updates and kill fees.
If a client decides to stop a project at any point, a researcher must be paid for work conducted.
The client may want you to provide the work done up until the stopping point. Depending on where you are in the project, you may wish to comply; however, if doing so would not be representative of the quality of your work, I advise against sending it. Raw unanalysed data or unorganized files are apt to leave a very bad impression.
Even so, there may be a need for changes. Include a statement reserving the right to request authorization for additional budget if changes are made pre- or mid-project.
Finally, it is not uncommon for new questions to arise based on the research findings. Make sure the client understands that you will charge for research required to answer such new questions.
Taking precautions is an important client management procedure. Being lax (even with long-term clients) can produce disagreements and stress – not fun.
This post is an abbreviated version of an article originally published in the September 2015 issue of AIIP Connections.
---
MarketingBase (www.marketingbase.com) specializes in industry, company and competitive and market intelligence research. Amelia Kassel operates The Mentor Program for new research professionals and those wishing to expand.