Conflicted About Confidence? 3 Keys to Believing in Yourself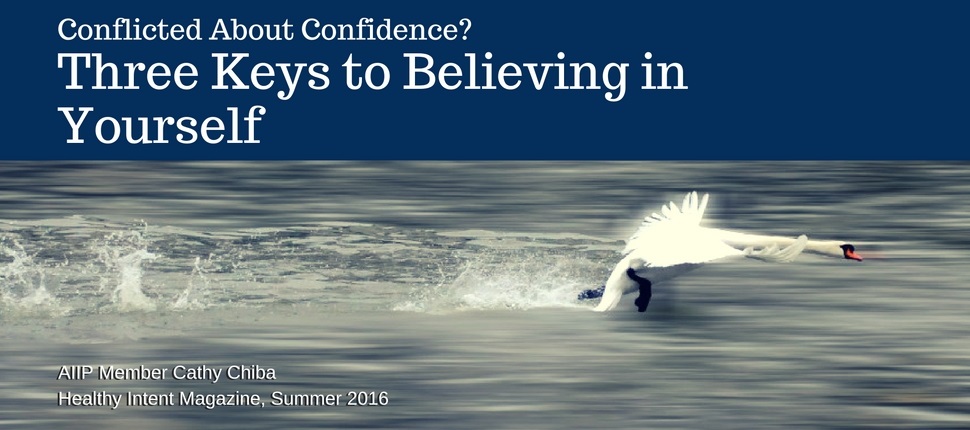 Self-confidence is the Key to Success for Self-employed People.  AIIP member Cathy Chiba from Vancouver, British Columbia is the author of an article published in the Summer 2016 issue of Healthy Intent featuring 3 keys to believing in yourself.
I don't believe in bluster.
But I do believe in my own strengths.
And yet, as I wrote in my article, "…I know I often play smaller than I can.  I struggle with consistency.  I lose momentum.  I habitually downplay what I do and often forget about my successes.  I play at the edges of what I want most. I have run into the spotlight, and scampered out again."
Sometimes, even when you do believe in yourself, you can act as if you don't.
That's me. And, I suspect, at least some of you.
You know your strengths. You've done the work. You know you're capable of much, much more than what you're doing now.
Yet you hold back.
So what's keeping you at the edge? How do you address your resistance so you can finally step into your best, most powerful self?
Read my thoughts on this in the Summer 2016 issue of Healthy Intent magazine, the Confidence Issue.
Lots of other food for thought, there, too.  And even some recipes for real food.
Publication:  Healthy Intent, Summer 2016
---
Cathy Chiba, Dauratus Research
Cathy Chiba has been a scientist, an educator, a librarian and a patent researcher. She is a business owner, a writer, a speaker and the founder of Dauratus Research.
Cathy cares deeply about many nuanced, complicated things: biology, psychology, technology, design, education, innovation, human performance, natural history, mental health, and creativity.
Save