What's the value of being a member of AIIP?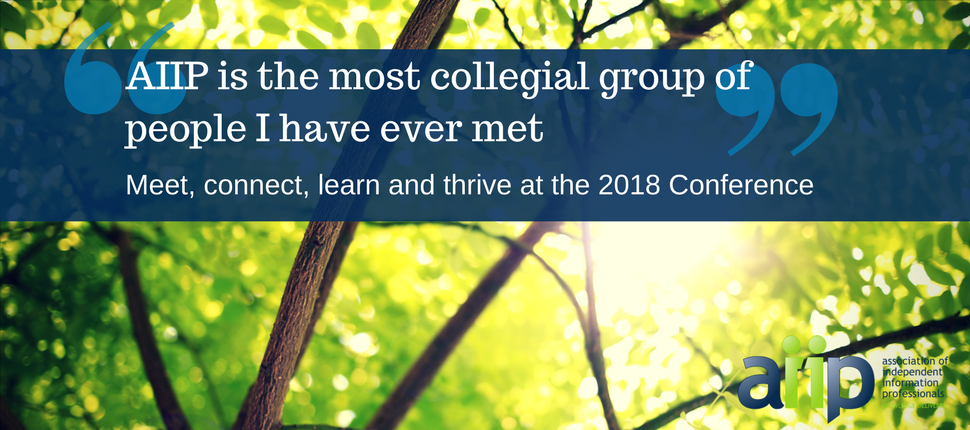 With the AIIP 2018 Annual Conference just around the corner Mary Ellen Bates shares her thoughts on the one of the key benefits of AIIP Membership.
I've often been asked about the value of membership in AIIP, the Association of Independent Information Professionals. My first response is always that AIIP is the most collegial group of people I have ever met.
While we do similar work, we don't see one another as competitors.
Rather, we all benefit when we share our expertise and lessons learned.
A great example of the synergies in sharing what we know is shown in a video by AIIP member Eddie Ajaeb at aiip.org/Conference/Why-Attend.
Eddie describes the exponential power of self-publishing an article on a subject related to his work. He describes how he learned about this approach by attending the AIIP 2017 Annual Conference and hearing about the creative ways other infopreneurs were using for marketing.
Watch this 4-minute case study on effective content marketing and see what you can learn at the AIIP 2018 Annual Conference, April 19-22 in Minneapolis, MN.
Are you considering launching your own information business? Are you already in business and want to move it up a level?
By joining AIIP you will be tapping into the brains trust of successful infopreneurs.
---
Mary Ellen Bates, President, Bates Information Services
In addition to providing customized business analysis to support smart decisions, Mary Ellen shares her expertise as a speaker, consultant, and business coach for both new and long-time info-entrepreneurs. She is the author of two books on entrepreneurship as well as author or co-author of five other books and innumerable articles about the information industry. Before launching Bates Information Services in 1991, she managed specialized libraries for over a decade.
Mary Ellen has served AIIP as President (1996-97 and 2004-5) and has contributed to numerous committees and strategic teams. Most recently she has been active with AIIP's Webinar Team. She was recognized with AIIP's President's Award in 2014 and the first Sue Rugge Award in 2000.