I wish I had known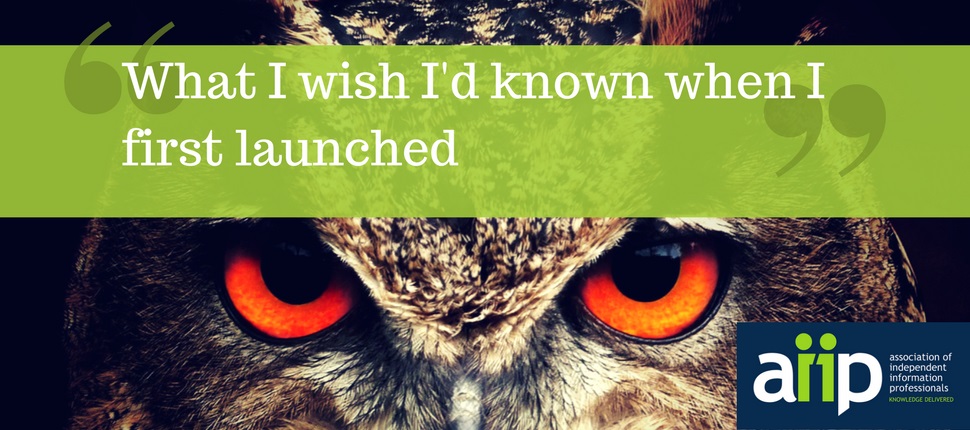 One of our new members recently asked what we wish we had known when we first launched our infopro businesses. Read on for some of the top tips our members had, collated by Mary Ellen Bates.
Whether you are new to infopreneurship or have been in the business for years, these insights will probably resonate with you as you move your business, or business idea forward.
Some words from those who learned the hard way.
"I wish I was more targeted in my discussions with people. When I launched I spent too much time talking with people who would never be clients, who I really couldn't help. Life's too short to try to please everyone."
"I wish I'd figured out sooner that what employers value in an employee does not translate into what a client values in an infopreneur. I kept trying to be an info-pro-for-hire, and that's not what my clients valued. I finally quit thinking of myself as an on-demand anything and instead as a consultant who works with clients to help them accomplish something."
"I wish I knew that just because I can do something doesn't mean I should do it.
No matter how amazing or competent I am, if I forgo sleep for a project, the results will suffer.
Just because I've invested three months into this marketing effort doesn't mean that I should invest another three months if I'm seeing zero results.
If "should" feels like the driver for any given decision, I give it a second look and probe for the why. If there isn't a good reason for doing something, I say NO."
Would you like to be part of this smart, successful, collegial group of independent information professionals?
Join AIIP now and prepare to see your business thrive!
---
Mary Ellen Bates, President, Bates Information Services
In addition to providing customized business analysis to support smart decisions, Mary Ellen shares her expertise as a speaker, consultant, and business coach for both new and long-time info-entrepreneurs. She is the author of two books on entrepreneurship as well as author or co-author of five other books and innumerable articles about the information industry. Before launching Bates Information Services in 1991, she managed specialized libraries for over a decade.
Mary Ellen has served AIIP as President (1996-97 and 2004-5) and has contributed to numerous committees and strategic teams. Most recently she has been active with AIIP's Webinar Team. She was recognized with AIIP's President's Award in 2014 and the first Sue Rugge Award in 2000.