Takeaways from AIIP's Conference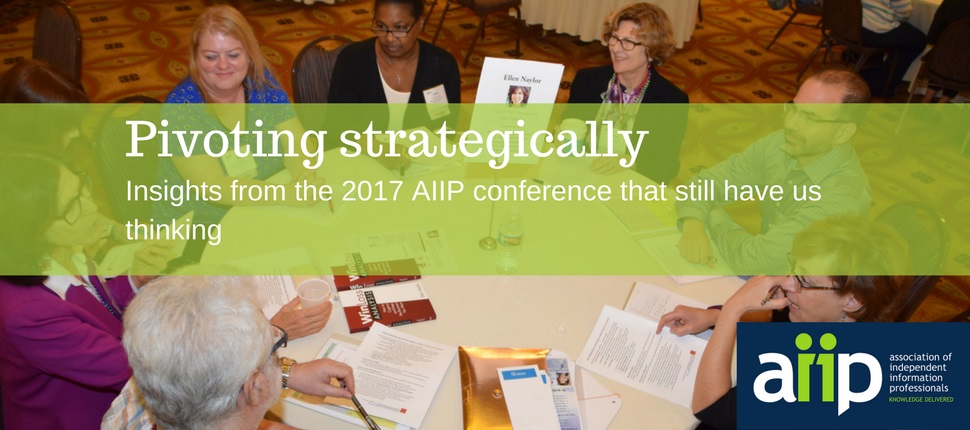 You know you have attended a good conference when you are still thinking about what you heard months later. AIIP's latest annual Conference was one of those conferences for me – A post by Mary Ellen Bates
The 2017 conference focused on pivoting as a strategic approach—something that we infopreneurs do continually as we adjust to our clients' changing needs and pain points.
We were lucky enough to have Jenny Blake, author of Pivot: The Only Move That Matters Is Your Next One, as our keynote speaker. Here are some of the insights I am still thinking about, months later.
When I recognize that things aren't working and I need to change strategies, find out what's working now. It's easy to focus on all the things I'm doing wrong instead of looking for the solid point upon which I can pivot.
What am I doing now that I really enjoy, that requires my expertise and that has space for expansion?
Ambiguity and serendipity need to be part of my strategic plan. Change is a constant, so my best approach is to incorporate pivoting into my planning.
When I set a long-term (say, one-year) goal and I can look at the immediate actions I need to get there, without having to plan every step along the way to my goal.
I will be more likely to recognize and embrace an unexpected opportunity when it appears it if I have already built an uncertainty factor into my planning.
I'm living inside my stretch zone, not outside my comfort zone. I've often said that the most important characteristic of successful infopreneurs is the ability to live outside their comfort zone, but that always sounded so negative. I prefer the idea that I'm living beyond stagnation and within the realm of reasonable risk… in my stretch zone.
We all have things that scare us. Jenny Blake described them as fear dragons and suggests that, rather than try to banish them, we simply domesticate them and make them our friends.
AIIP President-Elect Cindy Shamel mentioned the children's book There's No Such Thing as a Dragon during the follow-up discussion, which reminds us that denying the existence of a dragon only causes it to grow larger.
AIIP's conference always leaves attendees buzzing with ideas.
Join us and thrive at #AIIP18, AIIP's 32nd Annual Conference, in Minneapolis, Minnesota.
Main photo: Mark Goldstein
---
Mary Ellen Bates, President, Bates Information Services
In addition to providing customized business analysis to support smart decisions, Mary Ellen shares her expertise as a speaker, consultant, and business coach for both new and long-time info-entrepreneurs. She is the author of two books on entrepreneurship as well as author or co-author of five other books and innumerable articles about the information industry. Before launching Bates Information Services in 1991, she managed specialized libraries for over a decade.
Mary Ellen has served AIIP as President (1996-97 and 2004-5) and has contributed to numerous committees and strategic teams. Most recently she has been active with AIIP's Webinar Team. She was recognized with AIIP's President's Award in 2014 and the first Sue Rugge Award in 2000.