How to use your writing skills to build your info professional business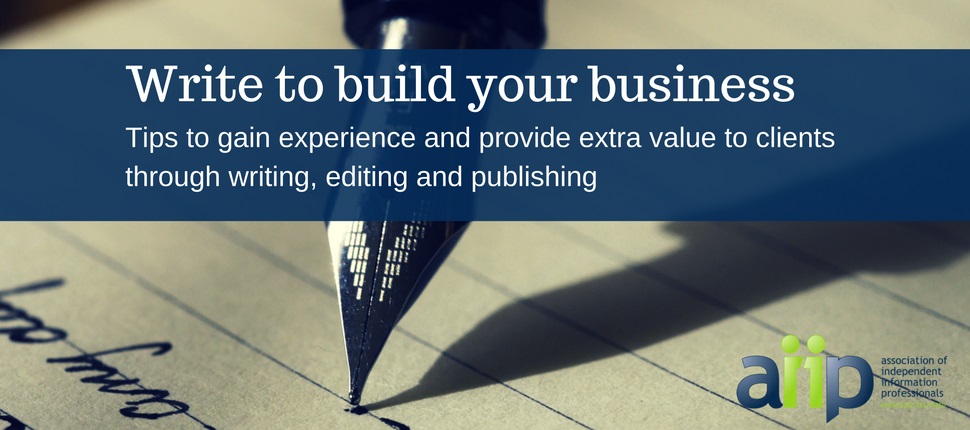 Independent information professionals go by many names: researcher, freelancer, contractor, consultant, knowledge manager, content developer, and more.
Many of our members are also Writing & Editing Specialists.
As independent information professionals (IIPs), we tell our clients' stories. From ideation to creation, editing, and publishing, we create engaging content that promotes our clients' businesses.
We help clients articulate their visions through the development of white papers, blog articles, research papers, web content, and more.
Our members use their creativity and publishing knowledge to make clients shine.
AIIP has over 30 experts offering services in Grant/Proposal Writing, Indexing/Cataloging, Publishing, Translations, Web Content Development and Writing/Editing
We asked Karen Klein, for some tips on how she combines her skills as a Business Researcher, Project Manager and Technical Writer to help her clients.
Pay attention to your client's hidden needs. On the surface, a project might appear to be strictly research, but you can add value by including a presentation, case study, or white paper to the proposal.
If you are a good writer or editor, but need professional experience, volunteer to write for industry or association publications like AIIP Connections to beef up your credentials.
Ask your client if you can add a redacted version of a report to your LinkedIn profile.
Add writing/editing/copy writing/copy editing to your list of services so clients know you have the skill set.
Volunteer with one of the numerous AIIP committees and serve in a role that shows off your writing or editing skills. The AIIP network is strong and members frequently partner or refer other members for professional engagements.
---
Karen Klein, Fulcrum Information Resources
Fulcrum Information Resources provides businesses with customized research, technical writing, editing, and project management services so they can make appropriate tactical decisions, improve their bottom line and use their resources effectively.
Whether writing a technical user manual, crafting marketing copy, or editing a white paper, we help businesses communicate their message into language that the intended audience understands.
---
For more tips download the AIIP free guide on Getting Started as an Independent Information Professional.
Photo by Aaron Burden on Unsplash