Infographic: 2016 Business Information Review Annual Survey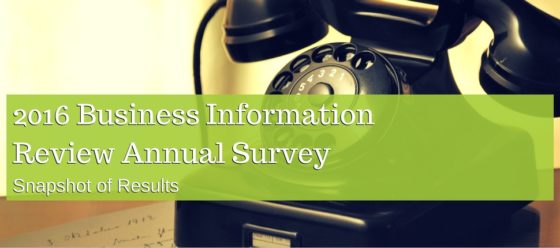 Denise Carter, AIIP member, recently stepped into managing the world's longest running survey in the Business Information and Knowledge Management sector.
The Business Information Survey has been conducted annually since 1991 by Business Information Review.  In 2016 in-depth telephone interviews were conducted with senior information managers in the financial, legal, pharmaceutical, science & technical, and telecommunications sectors.
For the independent professional practitioner, one takeaway was the clear desire from Information Managers for more personalized and focused services from information vendors.
Interestingly a repeated theme was that commercial organizations are demanding rounded practitioners who can adapt to "internal consultant" style roles.
This infographic, summarizes the key issues raised and discussed by participants to the 2016 Business Information Survey.
For more details, see Denise Carter's article "Behind the Scenes of the 2016 Business Information Survey: Demonstrating a Commercial Mind-Set"  in the September 2016 issue of AIIP Connections.
---
Denise Carter, DCision Consult Sarl
Denise offers expertise and assistance for Competitive Intelligence, Business Analysis & Knowledge Management activities. She specializes in searching, tracking, reporting and analysing data and information to support pharmaceutical, biotechnology and healthcare organizations. She has expertise in delivering pipeline assessments, market overviews, patient numbers, clinical trial analysis and more.
Additionally, Denise has a strong background in delivering library and information solutions to multinational organizations and multiple experiences of setting up information units from scratch.
Save
Save
Save
Save