What is the "business" of an independent information professional?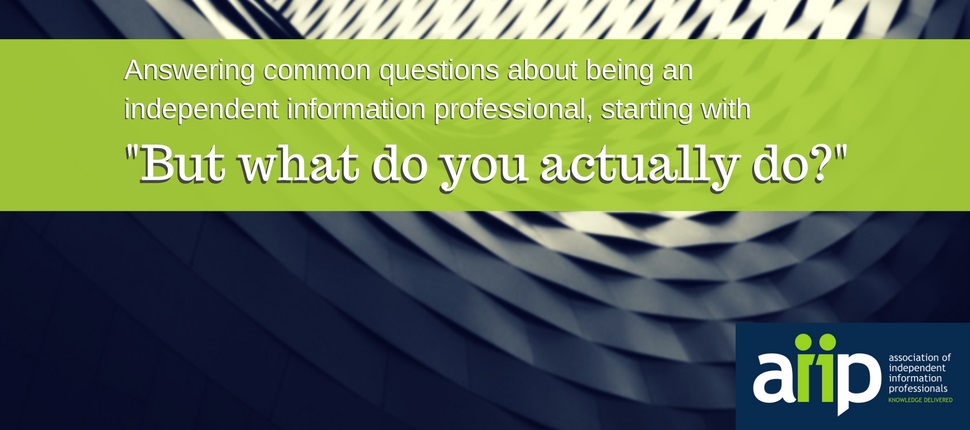 Association of Independent Information Professionals (AIIP) members are often asked variations of questions such as: What is it like to be in business as an independent information professional?;and How do I go about establishing such a business?
To help answer these, let's start with …
What does an independent information professional do?

It's easy to understand the services of a veterinarian or home renovator, to name just two examples of business owners. But it is less clear what "business" independent information professionals ("infopros") are in.
To put it broadly, an independent infopro assists clients by leveraging expertise in:
research;
information management;
knowledge management;
librarianship; and/or
other related disciplines
Many independent information professionals transition from employee to business owner, thereby bring their working experience to bear on client projects.
Some independent infopros operate within a niche specialization (say, patent searching), while others apply their expertise in a variety of undertakings. As technology and society evolve so do client needs, and independent infopros are evolving along with them.
To generalize somewhat, there are two kinds of independent infopros – those who provide repeat services to a core group of steady clients, and those who rarely have a client come back.
In the former case, the independent infopro may provide "consumable" services like market reports or statistics.
In the latter case it is likely they solved a problem or developed a strategic plan that set up the client for years to come.
To get a better sense of the wide range of services independent information professionals offer check out the Service-Offerings list or profiles of AIIP members in the AIIP Business Directory.
---
This is an extract from the AIIP guide to Getting Started as an Independent Information Professional. Your free guide is available here.