Getting started as an independent business researcher?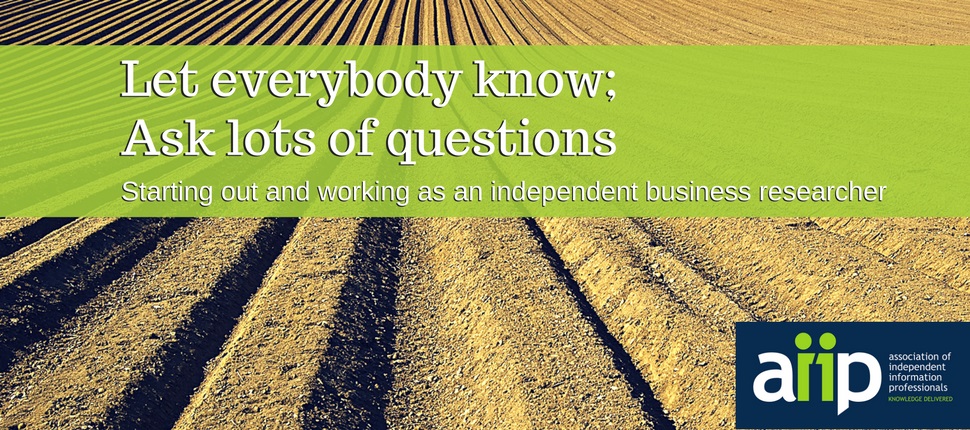 Independent information professionals (IIPs) go by many names:
researcher,
freelancer,
contractor,
consultant,
knowledge manager,
content developer,
… and more.
What IIPs have in common is the ability to provide clients with timely, accurate, and actionable information, analysis, design, review, and strategy. They may work with clients across a wide range of sectors, and they typically do this on a project, retainer, or hourly basis.
Business research is a core offering for many AIIP members
Many AIIP members work with clients interested in learning more about a particular sector or industry to help make business decisions.
A research project might cover:
an overview of a sector,
dive deep into a specific market,
provide an analysis of company profiles and financials,
include SWOT and environmental scans to help evaluate a new product concept,
… and much more.
Independent Information Professionals save valuable time because of their familiarity with the many tools and resources available to research these questions, such as commercial online services and public records.
We asked some of AIIP's skilled business researchers to share some tips for getting started
Their advice covers tips for both working on projects and building your own IIP business if you are a business researcher.
Michele Bate, Archer Van den Broeck Limited
"Let everybody know that you are becoming an independent information professional and what you plan to offer.
If your existing contacts are not able to offer you work, ask if they will recommend you to someone who might – referrals are an excellent source of business."
About Archer Van den Broeck: At Archer Van den Broeck, we help our clients to know who they are dealing with. We conduct public records research for due diligence, litigation support, senior level appointments, fraud investigation, dispute resolution, heir hunting and asset tracing in the UK and Ireland, plus European countries and offshore jurisdictions.
"Since I strive to provide actionable intelligence for my clients, my first step is to determine what the client needs to know to make decisions and how the insights I provide will help make those decisions.
This usually involves asking a lot of questions and probing deeper than the client might initially expect.
Taking the time up front to understand a client's needs and to know how the information will be used significantly boosts the likelihood that the end deliverable will be valuable and appreciated.
Once you understand the client's needs, then you can look at the type of research needed, sources to be used, preferred research and analysis methodologies, etc."
About Insight Researchers: Insight Researchers performs customized business research and analysis to give clients the insight and confidence to make informed strategic and tactical decisions.
We work primarily in the B2B space with a focus on the competitor landscape, changes in marketplace demand, industry trends, market opportunities (and threats) … and other issues that can impact the competitiveness of a business.
Insight Researchers clients range from Fortune 500 firms to startups in a variety of industries.
---
For more tips download the AIIP free guide on Getting Started as an Independent Information Professional.