How to bring order to digital chaos: helping clients with records management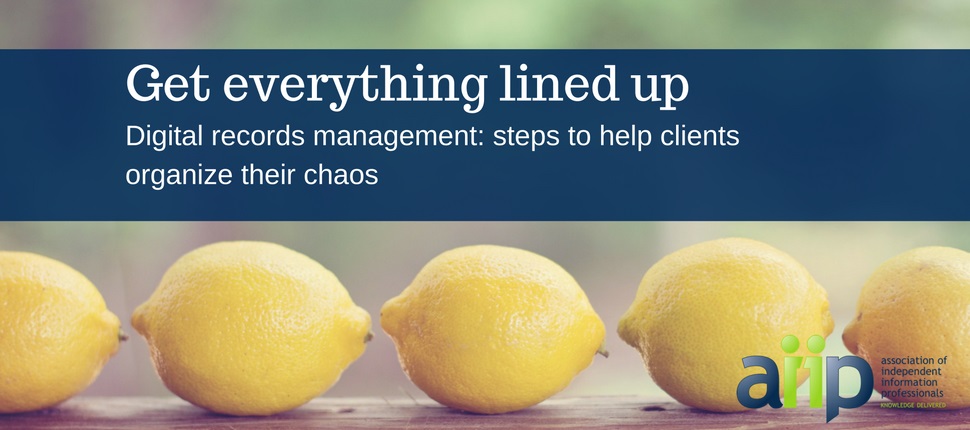 In the past, info pros specializing in records management focussed on assisting clients to understand and apply legal requirements related to the retention and disposal of business records.
Today records management encompasses project management, digital architecture, systems analysis, information management, digital asset management as well as understanding key sharing and retention platforms, such as SharePoint.
Where do you start?
We asked AIIP member, Jennifer Pflaumer from Paroo for some tips on how to assist clients with bringing order to their digital chaos. She outlined some basic steps she follows when working on these types of projects:
Assess what digital materials are being created, and what systems are used to manage them
Define all requirements that need to be met in order to properly manage digital materials
Review current processes to understand workflow and stakeholders involved
Work to improve the current systems if adequate, by one or more of these methods:

Create a new taxonomy or organizational structure for files
Provide guidance on more effective workflows and standards for file management
Supply training on system features to enhance capabilities of staff/system
If current systems are not adequate, determine what other systems might be a better fit, then:
Provide project management services to implement new system
Supply training on system features and capabilities
Offer change management solutions to ensure new system adoption
---
Jennifer Pflaumer, Principal, Paroo, works with corporations, non-profits and individuals to develop effective processes and resources for managing information in order to meet strategic goals.
Her expertise includes liaising between key business groups and IT on managing data and using business applications, documentation development, digital asset management system implementation, creation of information strategies, and systems analysis and design.
---
For more tips download the AIIP free guide on Getting Started as an Independent Information Professional.