Hiding in plain sight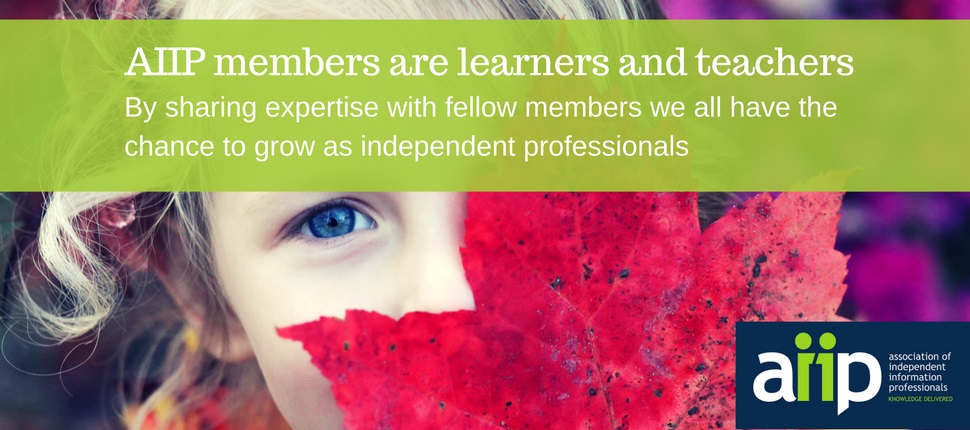 The information profession is vast, almost undefinable. At AIIP, we carve out our niche as infopreneurs with many research-based specialties including competitive intelligence, information management, marketing research, and pharma research. As diverse as our business specialties may be, "we are more alike, my friend, than we are unalike." –Maya Angelou.
Our likenesses stem from running our own businesses and from being experts in aspects of finding, analyzing, managing and sharing information. The person next to you may be a private investigator, writer, marketer, patent researcher or a win-loss expert. We have a myriad of experts hiding in plain sight.
And therein lies the beauty of AIIP. The value we offer each other is that we are all teachers and learners.
Our methods, mistakes and musings are fodder for our peers. We've taken care this year to extend our knowledge sharing by leveraging the expertise of our members. Here are some tried-and-true and new ways to both teach and learn
Face-to-face
AIIP's annual conference May 18-21, 2017 in New Orleans has pre-conference workshops and conference sessions including the popular, fast-paced tips on the terrace led by members. Our theme "Resilience, Reinvention, Renewal: Pivoting for Success" will highlight the changes our businesses are going through.
Join a local networking group in your area for good conversation with those who 'get what you do'.
Virtual presentation
It's not unusual for members to quick start their public speaking by offering member-to-member webinars like the First-Year Questions panel. Or, share your expertise with members through first-year member virtual meetings or a topical webinar series such as with the social media marketing SIG.
Expert-on-call
Parry your questions and solutions on our active discussion list, AIIP-L.
Volunteering on a committee is a great way to learn a new skill or share one you've honed over time.
Author! Author!
Coach
Be a one-on-one advisor to another member as a mentor or  learn from an experienced IIPer as a mentee via the AIIP mentor program.
Lead a committee of your peers on a volunteer team or join the AIIP board.

These activities all are based on the premise that there is commonality in running an independent business as a solopreneur and driving client value by expertly leveraging information. Sharing is caring, as the saying goes. Share what you know, what you do, that makes you an expert. We will all be the richer for it. 
Jane Langeman
President, AIIP 2016-2017