Starting up: Getting the most out of your community resources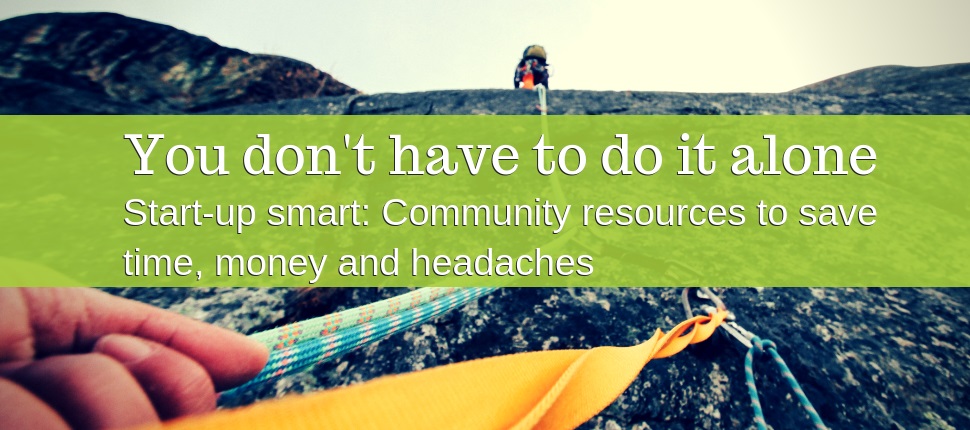 By Claire T. Dygert, Cdygert Solutions
Starting a business can be a daunting prospect, but you don't have to do it on your own. Most communities in the United States have a variety of resources to support your business start-up process, many of which are free.
Even if you are not in the U.S., some of the resources are online and can be accessed from anywhere. In this article, I share experiences from my own recent start-up effort and the community resources that I benefitted from along the way. I hope those of you just starting out on your own journeys to independence find it helpful!
Your local Small Business Development Center
The first thing I did when I was getting serious about starting my own business was to contact my local Small Business Development Center (SBDC). Part of a national network, SBDCs are often hosted by universities or colleges, or by state economic development agencies, and provide free face-to-face consulting sessions.
My consultant helped me determine the best legal structure for my business and provided me with information and advice on getting my business registered as a minority (woman-owned) business. After our initial meeting, my SBDC counselor followed up periodically to see how I was doing and to discuss where I was in my process. I found that just knowing there was someone I could call on at point of need was of great help.
In addition to free consulting services, SBDCs offer free and low-cost training opportunities. And the national SBDC website offers America's SBDC Professional Development Courses, which include webinars on coaching, QuickBooks, business planning, marketing strategy and planning, cash flow and balance sheets, and Google Analytics.
See what your own local SBDC has to offer by going to the America's SBDC website and searching by ZIP code or state.
SCORE Resources
Another local resource that I benefitted greatly from was my local SCORE office. SCORE is a non-profit partner of the U.S. Small Business Administration with over 300 offices across the country. SCORE's main mission is to provide mentoring and education to small businesses, and they have thousands of working and retired business professionals who volunteer as mentors.
My experience with SCORE has been excellent. I initially contacted them when I was still employed full-time but had already registered my business, thanks to help from the SBDC. I was in the middle of responding to a couple of RFPs (Request For Proposals), and if I won either of them, it would allow me to launch my business full-time. Both jobs would have required large amounts of money to pass through my company, and I needed advice on the best way to handle that. I submitted a request to SCORE for an in-person mentor meeting and received a reply the same day. Within a week I was meeting with my local mentor and getting the advice I needed.
Later, when I had some questions about intellectual property issues regarding my business's use of some documentation and workflow tools I had created for my former employer, my SCORE mentor connected me with both a human resources professional and an intellectual property lawyer who provided advice at no cost. Finding and consulting a lawyer on my own would have cost hundreds of dollars.
Throughout the year, my local SCORE chapter provides a wide variety of workshops that are not only educational but also provide good networking opportunities. The first workshop I attended was on best practices for running a small business, and featured a panel that included an insurance agent, a lawyer, and an accountant who all gave advice from their areas of expertise. I hadn't thought much about insurance needs at that point and chatted with the agent after the meeting. Today she is my insurance agent. Other workshops I've attended include one on using QuickBooks and another on writing an effective business plan. All were well-presented and of value. SCORE also has an online library with a wealth of free business resources, including some Pre-Start Resources.
Due to SCORE's non-profit partnership with the U.S. Small Business Administration, the mentoring services are free no matter how many times you meet with a mentor. And SCORE makes finding a mentor easy. You can request one online by searching the SCORE mentor database, which allows for searching by keyword, industry, location, or expertise. Find your local SCORE chapter and learn more about SCORE at www.score.org.
Local Library Resources
When I quit my job to start my business, I left an academic environment where I had a wealth of online databases and other resources at my fingertips. I was pleasantly surprised to see the extent of online resources available through my local public library. One I was very glad to find is Lynda.com. Lynda.com makes video tutorials available on an extensive array of business topics and software, from project management skills to using Microsoft applications and QuickBooks. I've used Lynda.com to explore the invoicing features of QuickBooks before deciding to subscribe, and I watched hours of tutorials on web development in Drupal that allowed me to recreate a contract portal tool I had used in my previous job. In addition to tutorials on individual tasks and software applications, Lynda.com has "Learning Paths" on numerous topics, including becoming a small business owner and improving your presentation skills. Many public libraries subscribe to Lynda.com for their communities, so check to see if this valuable resource is available at yours.
In addition to resources from your public library, most state libraries provide a host of online resources that are available remotely to users across the state. In my state, the Division of Library and Information Services has resources designed to help small businesses, as well as subject databases in business, demographics, communications and mass media, criminal justice, health and wellness, military and intelligence, and much more.
Finally, did you know that most libraries in public higher education systems have provisions in their online resource license agreements that allow on-site use by "walk-in" or "occasional" users? You should be able to preview the resources available at your local public institution at the library's website. These databases, however, are not to be used in place of paid access to the research databases required to meet the needs of your clients, and many license agreements specifically prohibit use for commercial purposes. AIIP members should always use these publicly funded resources in accordance with the AIIP Code of Ethical Business Practice.
AIIP Resources
If you are reading this, you may already be an AIIP member. If you are not, I encourage you to become one.
I recently did so, and I've already found the resources AIIP makes available to their members helpful. Resources include a series of webinars on a variety of topics, including some targeted to those in their first year of business.
The AIIP webinar, Writing a Winning Proposal, presented by Linda Rink, helped me improve a proposal I was in the middle of crafting, and gave me some ideas for refining my proposal template to make it look even more professional.
Members-only publications available online include a series of FAQs that address issues of getting clients, marketing, and pricing. AIIP also has a mentoring program for new AIIP members starting an information professional business as well as established members needing a fresh perspective..
Not yet an AIIP member? Check out AIIP's Getting Started page. From there you can request a copy of the AIIP Guide to Getting Started as An Independent Info Pro.
---
Claire Dygert owns CDygert Solutions, a results-driven consulting company that provides services to all types of libraries and library consortia. Her areas of expertise include e-resource acquisition and management, statewide contract negotiation for online content, digital services, strategic planning and organizational change.
This blog post was originally published in AIIP Connections, December 2018 issue.