Do you want to build strong and resilient info professional business? AIIP can help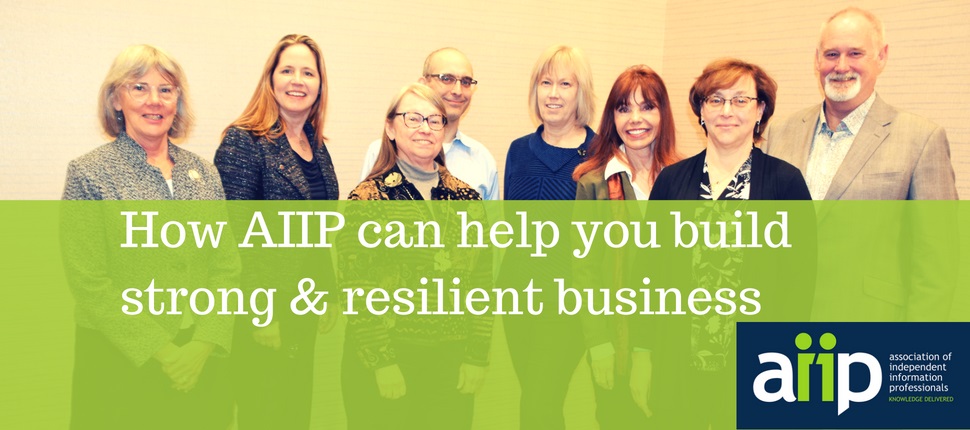 At AIIP, we survey our members every other year to get a sense of who our members are and how AIIP can best help them build strong, resilient businesses.
The 2017-2018 AIIP Membership Survey was published in April of this year; while the results are only available to AIIP members, we would like to share a few highlights with you.
Our members have years of experience. Two-thirds of the respondents have been in business for at least five years.
Our business is our primary focus. About 85% of our Full members focus solely on their businesses; the other 15% also hold a part- or full-time job elsewhere.
Our members know the value of professional development. Over three quarters of our members have attended at least one AIIP annual conference in the past three years, and 90% take advantage of AIIP's members-only webinars and the members-only discussion list.
Our members work in a wide range of information businesses. While the majority of members consider research services as one of their key offerings, about half of the members provide training and consulting services and over 40% offer writing, editing and publishing services.
The biggest challenges faced by our members include time management and maintaining a healthy work/life balance, and effectively communicating our value to our prospective clients.
Our members highly value their AIIP membership. Over three quarters of respondents say AIIP membership provides "a great deal" or "a lot" of value.
Why do AIIP members renew every year?
"AIIP-L [our members-only discussion forum] keeps me up to date on professional tools and software that can be helpful in starting my new business."
"I love the info and sharing on AIIP-L."
"AIIP is an enormously generous group."
"AIIP members' insights, experience and willingness to share have been a major factor in my success in business."
"If you are in the info pro business, this organization is a must! There is so much knowledge and help that people are willing to share."
"The resources available and the expertise of the members in running independent businesses is unmatched. AIIP has been a real resource for me in starting my business and building my confidence as a leader and an independent."
Have you been considering starting your information business? Are you already in business and want to join fellow infopreneurs? Join AIIP and start taking advantage of the unique benefits AIIP offers to independent information professionals.
---
The Association of Independent Information Professionals (AIIP) is the leading global association for information professionals working independently. Its members include business owners running diverse info-centric businesses.
Whether as marketers, researchers, technologists, writers or consultants, AIIP members expertly leverage information to benefit their clients. AIIP's worldwide professional network nurtures and supports both experienced and novice information entrepreneurs.
Main image: AIIP members at the 2018 Conference in Minneapolis – Credit: Mark Goldstein on Flickr